Semi-automatic Vacuum Capping Machine for Twist-off Metal Lid with Glass Jar


Product Instruction
The vacuum capping machine is developed by our company for many years of production experience. It is suitable for vacuum packaging of glass bottle, tinplate claw type rotary cover in food can industry. The open fully sealed vacuum chamber technology is applied to the capping machine and the sealing machine. It adopts the integrated design of machine, electricity and gas, the structure is compact and reasonable, the operation and maintenance is convenient, the main pneumatic and electrical components use imported brands, and the performance is stable and reliable. Widely used in food and beverage, condiments, health products pen in various industries of three (4) glass bottle vacuum cap.
It belongs to semi-automatic model (manual cover, manual entry and exit bottle). Using pneumatic drive rotary cover, using accurate control of actuator air pressure to achieve torque control, non-friction torsion limit makes the service life longer; because of the use of reliable full sealing technology, the configuration of low power vacuum pump can achieve ideal vacuum degree. Vacuum can be set as needed. economy, wide applicability, ease of use, reliability and mobility, suitable for small production workshops, special specification uses, and laboratory use.
Operation Step
1. Choose rotary cap head mold according to the size of cap
2. Adjust the height according to the height of bottle
3. Put the bottle in the mold cave.
4. Press the button to run the caves automatically.
5. Take the sealed bottle out.
Product Application
Suitable bottle shape has round, square, polygon, all kinds of special shape, strong applicability; is an ideal glass bottle automatic vacuum twist-on glass jar capping machine, widely used in food and beverage, sauce, seasoning, medicine, health products and other fields.
For examples: sauce, beef sauce, jam, fruit meet jar, chilli sauce, ketchup, juice, honey, etc, any food contained glass jars.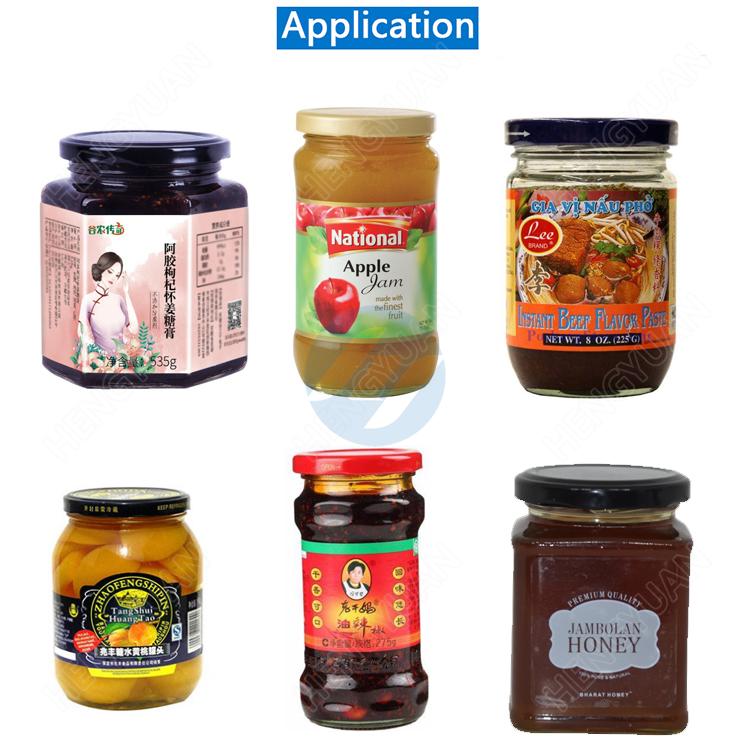 Machine Disply