Automatic Four Wheels Capping Machine
Product Introduction
Automatic four wheels capping machine is a new product developed on the base of the latest technology, using four wheels to clamp and screw cap. The bottle sealing machine adopts PLC to combine the actions. And the parameters are set in touch screen. The mechanical parts are adjustable to suit for bottles with different sizes. It has a wide applicability, particularly suitable for multi-product compliant method. Its most prominent feature is that it can adapt to all shapes and types of the bottle just by adjusting without any additional parts. According to lid types, the capping machine can be equipped with suitable cap sorting device, such as vibrating bowl, centrifuge bowl, elevating lid sorter. it can be used for medium and small-batch production.

Product Application
The machine meets the GMP requirements, easy to disassemble, clean and maintain. The capping machine is widely used in pharmaceutical, chemical, food, beverage, oil and pesticides industries.
1.Used for plane-top plastic and metal screwing cap, twist-off tin lug cap, extrusion cap, pull lid, flip-top lid by automatic sorting and loading caps.
2.Used for the cap with the tube, pump cap, spray cap, trigger cap by manually put caps in the bottles.
For examples: Inline capping machine, plastic cap capping machine, screwing cap capping machine, trigger cap capping machine, pump cap sealing machine, spray cap sealing machine, pesticide bottle capping machine, pepper powder bottle capping machine, shampoo capping machine, hair conditioner capping machine, bleach bottle capping machine, mouth wash capping machine, facial lotion capping machine, hand washing bottle capping machine, hand sanitizer bottle capping machine, kitchen cleaner bottle capping machine, glass water bottle capping machine, lube oil bottle capping machine, etc. Automatic thread screwing plastic and glass bottle with lid capping sealing machine.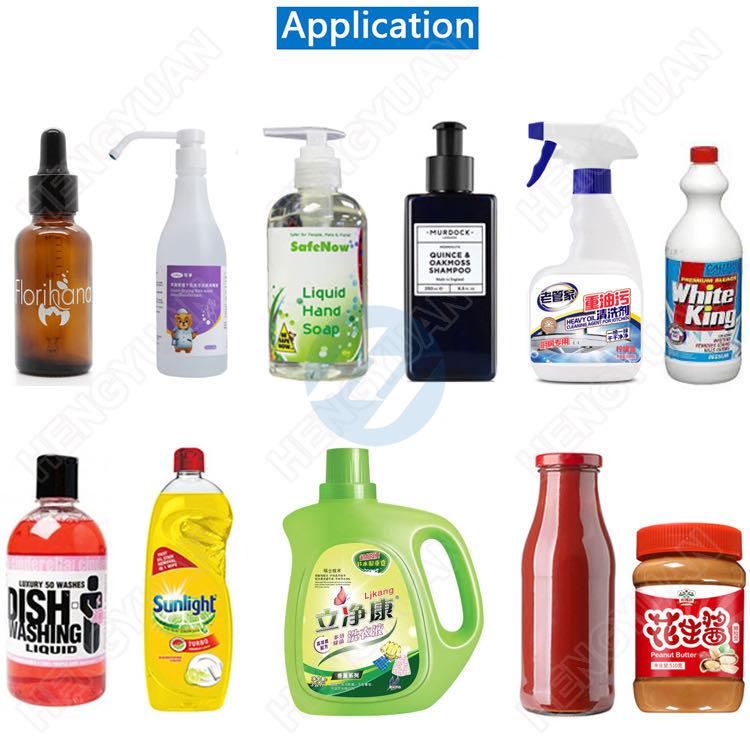 Machine Display