Automatic Servo Motor 1 Liter Piston Liquid Filling Machine


Introduction
Linear piston filling machine is for different viscous liquid and cream with different bottle or jars. The performance of the product reaches the international leading level. PLC control, servo motor driving, equipped with brand touch screen, smooth operation, no leakage phenomenon, No bottle no filling, automatically control feeding the liquid into machine tank, liquid level is controlled at the same height.
The parameters are adjustable, simple and convenient, and the filling dose can be accurately calibrated, controlled within 0.5% of the filling dose. The machine is made of high quality stainless steel, beautiful appearance, will not pollute the material, is the best choice of oil high viscosity liquid filling. Bottling Filling Machine is realized by the man-machine dialogue interface under the operation and control of high-speed PLC. It realizes the linear stepless speed regulation transmission through the human-machine dialogue interface, and can adjust the filling capacity arbitrarily. It can be equipped with a pneumatic gland or a capping device to form a multi-station one-machine multi-functional production line. The filling machine assembly line integrates machine, electricity and gas into one, with unique design, complete functions, stable performance, high quality and beautiful appearance. Applied to GMP standard. Easily dismantle, clean and maintain. The whole machine is safe, environmental, sanitary, adapting to various kinds of working place.

Application
Piston liquid filling machine is widely used for bottling of beverage, daily chemical, agricultural chemical, food and pharmaceutics industry.
For example: juice, milk, yogurt; emollient water, shampoo, shower gel, liquid soap, facial cream; insecticide, herbicied, liquid fertilizer, pesticide; ketchup, fruit jam, honey, pepper patse, edible oil; Wash-free hand sanitizer gel, cough syrup, ect. Automatic 50ml to 1000ml (1liter) Piston Type Liquid Filling Machine.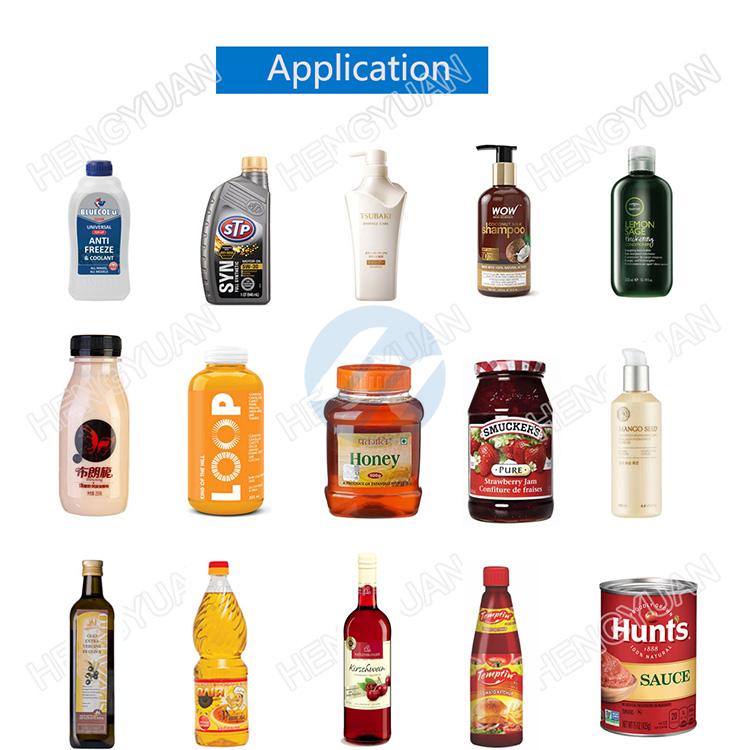 Main Features
1) Simple structure in linear type, easy in installation and maintenance.
2) Adopting advanced world famous brand components in pneumatic parts ,electric parts and operation parts.
3) This filling machine is a high-tech filling equipment controlled by microcomputer PLC programmable, equip with photo electricity transduction and pneumatic action.
4) Accurate measurement: adopt servo control system, ensure the piston can always reaches constant position.
5) When close to target filling capacity can be applied to realize speed slow filling, prevent the liquid spill bottle mouth cause pollution.
6) Convenient adjustment: replacement filling specifications only in touch screen can be changed in parameters, and all filling first change in position, fine-tuning dose it in touch screen adjustment.
7) Suitable material: Oil, jams, daily chemicals, and something that very viscous.
Machine Display