Automatic Cold Wet Glue Paper Label
Round Bottle Labeling Machine
Product Introduction
Full Automatic Wet Cold Glue Labeling Machine is applicable to all kinds of objects on round bottles paste labeling, separation, gluing, labeling, covered labeled automatically, reducing manual labeling process, improve labeling efficiency. Coating evenly with filamentous stripes, do not wrinkle, improve packaging grades. Linear paste bottle labeling machine can work independently or connect with automatic production line. Suitable for plastic bottle, glass bottle and metal column shape container etc. The height has no limitation for regular container, label material is paper with normal printing.Label glue can apply chemicals synthetic glue or starch paste as label glue material. All key parts apply import original parts.For the similar container and label, no need change any parts, just making some adjustment can begin production.
Product Application
Automatic Wet Cold Glue Round Bottle Paper Labeling Machine is suitable for labeling middle and small batch production, such as food, Chemical, Medicine, Farm Chemical and other labeling.
Tin canned food labeling, bottle paste labeling, labeling and paste on the glass, ketchup bottle, Sauce bottle, PET, PE, PP bottles ETC.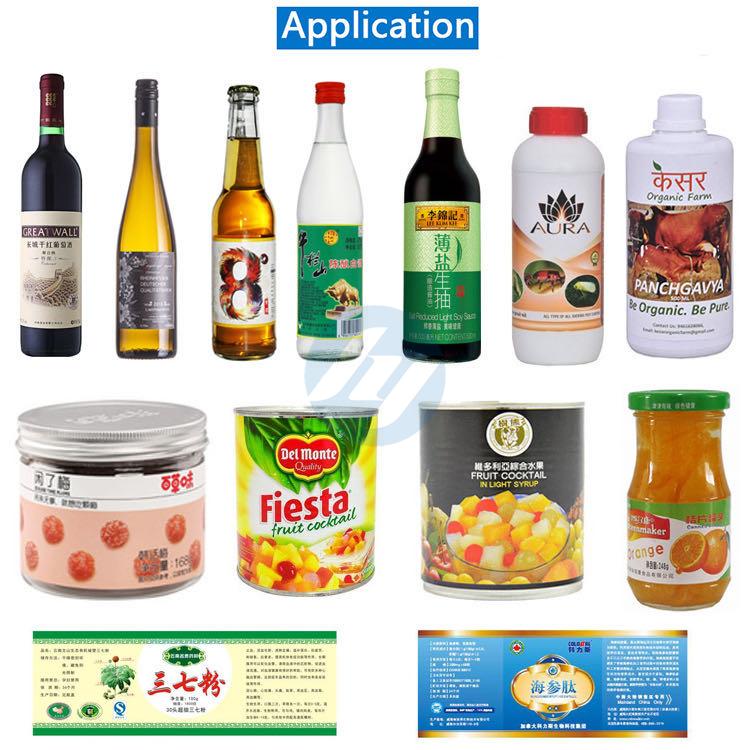 Machine Display