Automatic High-accuracy Self-adhesive Non-dry Sticker Plane Labeling
Machine | Arm Single Head Label Applicator


Product Introduction
Automatic high-accuracy single-head arm sticker labeling machine can stick non-dry skicker label on the objects like bottle cap top and inner side, box, etc. With inspection of sensor, tracking label synchronously, ensure to labeling speed and smoothly. Host design labeling machines using imported and domestic advanced technology to improve and make a solution for instability of general domestic labeling. By optical fiber computer control, we can get the synchronization track. The output of labels is controlled by a stepper motor or servo motor. It can detect the objects and size of labels automatically. It is modern and advanced electronic mechanical integration equipment automatically controlled by microcomputer mode, with large LCD touch panel, display and memory devices containing dozens of memory devices. The operation is simple, the labeling is accurate, the performance is reliable, and there is low noise. Sticker labeling machine is easy to clean, not moldy, beautiful after labeling and of high production efficiency. It is strong and won't fall off on its own.
1. Basic use
It is suitable for labeling on the upper plane, arc surface and concave surface of products, with the labeling accuracy of ± 0.5mm. It is mainly used for precision labeling of electronic components and digital products, such as SD card, mobile phone battery, FPC, mobile phone charger, etc. High precision labeling, highlight the excellent quality of products, improve competitiveness.
2. Scope of application
Applicable label: self adhesive label, electronic supervision code, bar code, etc. Applicable products: products requiring labeling on plane, arc, circumference, concave, convex or other surfaces. Application Industry: widely used in food, toys, daily chemical, electronics, medicine, hardware, plastic, printing and other industries. Application examples: cover inside, SD card labeling, notebook power supply, battery labeling, etc.
3. Working process operation process: put the product - > label and re label (automatically realized by the equipment) - > take out the labeled product.
Product Application
Automatic single-head arm sticker labeling machine labeling application machine is suitable for labeling for labeling on top side with one label. It is widely used in bottling of daily chemical, agricultural chemical, food, personal care and pharmaceutics industry.
For examples: Cap top, Cap inner side, Box Cap Top, etc Label application machine.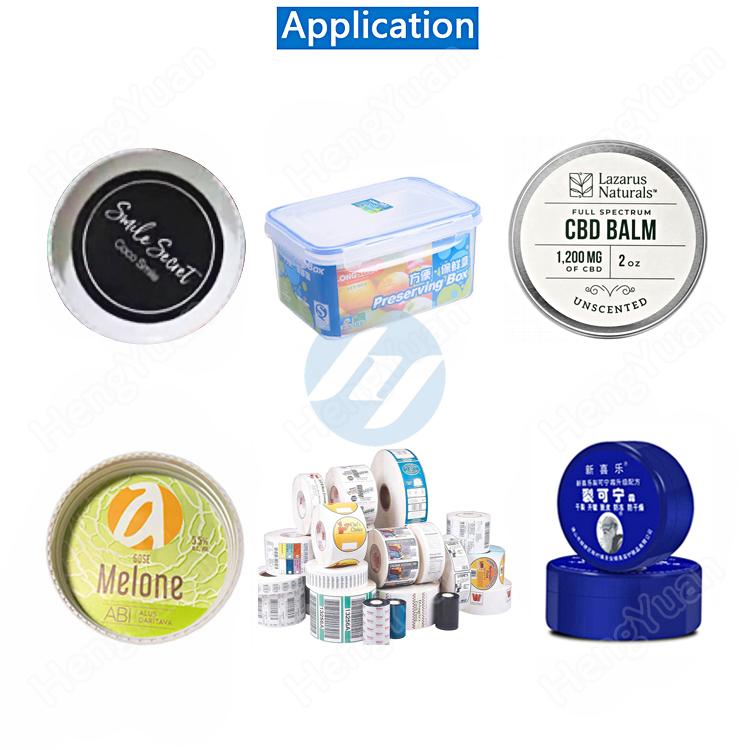 Machine Disply