Semi-automatic Pneumatic Piston Single-head Mixed Sauce / Paste Filling Machine
Product Introduction
Semi-automatic desktop pneumatic piston mixed sauce / paste filling machine is designed according to the advantage technical. It is with simple structure, high Accuracyand easy to the operation. It is the best equipment to fill high thickness material and paste. Accord to GMP, the parts which connect with material are all made of 304 stainless steel. Machine with filling volume adjustable handle, filling speed also can be changed as you like, high accuracy.
Filling nozzle designed with nondrip function. This series machine can be made single nozzle model, doubie nozzles model and full pneumatic explosion proof model. Semi Automatic Pneumatic Piston Paste Liquid Filling Machine is mainly used for bottling of daily chemical, agricultural chemical, food, personal care and pharmaceutics industry.
Product Application
10-5000ml customized single-head granules mixed viscous liquid filling machine.
For examples: Beef paste, chilli sauce, soybean paste, pepper paste, sesame seasoning oil, hotpot base, vegetable paste, meat soap, etc. any liquid, half-flowing liquid, viscous cream, with or without granules, semi-automatic desktop sauce dispenser, liquid filler, refill equipment.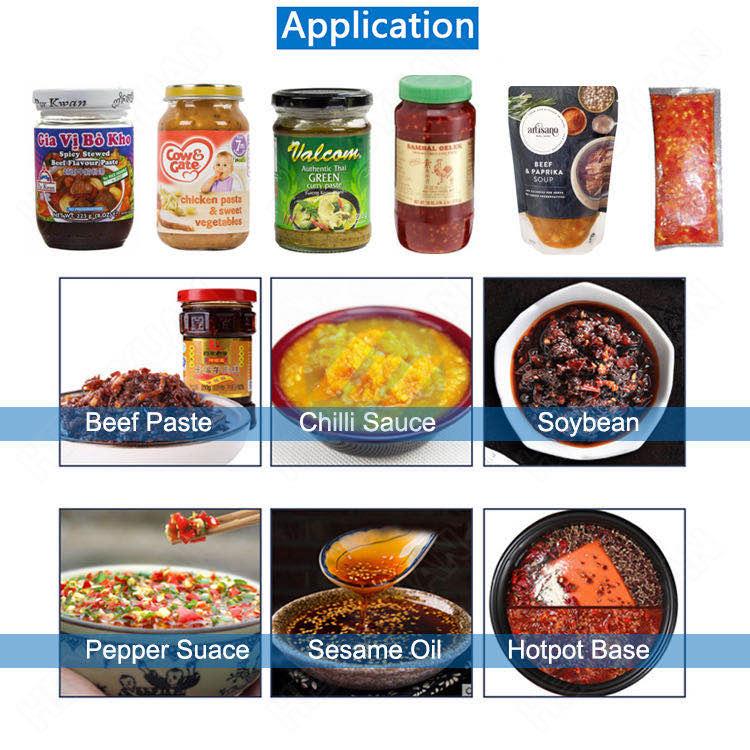 Machine Display